Sex toys are great for enhanci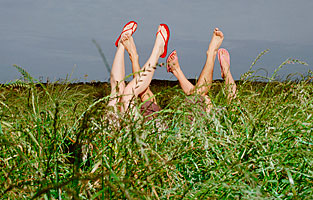 ng your sex life, but we should never solely rely on them for our pleasure. More often than not, your partner will be pleasing you with their hands so the more you understand how to pleasure yourself with your hands, the better you'll know how to move against theirs or the right direction to send them in when they're the one pleasing you.
First, foreplay foreplay foreplay. Even if you're the only one in the room, foreplay yourself, baby. Paint a picture in your mind that turns you on and touch yourself in all the ways that make you feel good. Orgasms are like a great concert, the more anticipation and build there is before the concert climaxes with your favourite damn song, the more bad ass your orgasm will be.
If you put your index and middle finger in a come hither motion, that gentle rocking back and forth of the fingers is going to be your ticket to orgasm, as my friend says, stimulating the G-spot is "more about the tickle, than it is about the in and out." If you're unsure what shape your fingers should be in, google "gspot vibrator", there's great ones like the Gigi, G-Ki and Orchid G that are shaped just like your "come hither" fingers and literally point to where to find your fun spot.
Insert your fingers facing up towards your belly button, and gently stroke your fingers back and forth in a come hither motion. About two inches into the vagina you will notice there's a part of the vaginal wall that's rougher than the other parts and gushier, that's the sweet spot. Keep "tickling" that area as fast or slow or hard or soft that feels good to you, while using your other hand to play with your clit, grab your breasts, anything that makes you feel good and fuels the hot picture in your mind.
And like Maestro Fresh Wes says, "Stick to your vision" (and also "Let your backbone slide", which could come in handy another time). It doesn't matter if you or your partner are pressing all the right buttons, if you're worried about all the things you have to do later, your bills, or even about whether or not you're going to come – you're not going to. All of the blood has left your fun parts and gone to your brain and ain't no fun time going to happen up there. This is about relaxing and feeling good, it's about the journey, not the destination, and what a damn good time it is. And don't worry if you ejaculate or not, orgasms and ejaculate are not exclusive to each other, they can happen together or alone and the amount of come you have is not a measure of how "big" of an orgasm you had. The only thing that matters is how good you and/or your partner(s) feel, and if you feel f*in' fantastic, that is all that matters.