There are suitcases spilling glitter all over The Big Smoke's streets as burlesque dancers from Japan to Las Vegas arrive to tickle our eyes and tease our appetites at The Great Canadian Girlesque expo. Featuring original burlesque legends  April March and Tiffany Carter as well as modern dolls World Famous Bob and Bettina May, classes to learn dance and glam from the best and even the opportunity to have your brunch with a side of leg kicks, Girlesque promises to be delectable.
We caught up with five burlesque dancers coming to Canada from as far as New Mexico to Tokyo to find out how they became addicted to the sparkle and a lil' taste of what to expect this weekend. From the cathartic release of performance to the WTF moments that happen live on stage, these beautiful dames give you a taste of the broad range of experiences that lead people to pursue the glitter high.
DISCOVERING BURLESQUE
KOSTON KREME: I can't pinpoint the exact moment that I discovered burlesque. It was more like many small moments over my life as sparkly things and dance scenes in old movies movies caught my attention and excited me.
VIVIAN MIRANN: There wasn't an exact moment where I first discovered burlesque so much as it was part of a natural flow of performance art. I started out performing in small fetish shows in Florida, spending a lot of time with drag queens and supporting their events. There were many nights spent watching vintage movies featuring Hollywood-style burlesque and chatting about the costuming and acts. I was completely enchanted with it.
CHERRY TYPHOON: In 2003, I formed the girl's cabaret troupe "Murasaki Babydoll" in Japan and booked the event "That's Cabaret in NY" in 2005. On that event, there are many incredible burlesquers such as Jo Boobs, Dirty Martini, Miss Indigo Blue, Miss Erochica Bamboo…oh my goodness! I fell in love with burlesque! Because I found it was so inspiring, eye-popping and positive.
DD STAR: I discovered burlesque walking into a burlesque workshop taught by the lovely and talented Coco Framboise.
NIKITA BITCH PROJECT: It was Dita Von Teese when I first heard the name "burlesque" as she did modeling for a Japanese lingerie brand in 2007. Although I had been curious about what the burlesque is since then, I've never had a chance to see a real burlesque show until 2010. It was in Brooklyn where I traveled to "find something" for my life. And yes, I felt exactly like "This is something."
FIRST BURLESQUE PERFORMANCE
KOSTON: It was during a time in my life when I was forcing myself to do things that scared me. I stepped off the stage and thought "Well that was terrible, but they loved it, I can do better, and I want to have this feeling again." It was after that when I started preparing for bigger things!
VIVIANN: My first show was part of an infamous Albuquerque event known as Pornotopia, which is an amazing festival that promotes sex as a positive aspect of our culture. The organizers of the show were looking to add burlesque to the lineup, and offered me a spot. I spent the few weeks before the show working feverishly on a costume and an act. I had stress dreams and worried over every detail, but the minute I hit the stage, I felt wonderful!
DD: After seeing a Les Coquettes show and completing Coco's workshop I decided to enter Toronto's Very First Strip Search competition. I worked on my character, costume and choreography for 3 months before I peeled for the very first time.  Winning that night changed my life for the better.
CHERRY: At the NY event, just after my cabaret performance, Miss Indigo Blue came to me, and she told" You are so funny! and I think what you want to do is…burlesque!" Then I took course at burlesque conventions such as Tease-O-Rama. Because there was no burlesque course in Japan, no YOUTUBE, or no article in Japanese language.
NIKITA: A couple of months after I came back from the NY trip that I got totally inspired by my first burlesque experience, the great earthquake and tsunami hit Japan followed by the horrible nuclear plant accident. At that time, my country was filled with such a depressing yet intense atmosphere. It was like we were in a war; You can't do/say/think what you want, you are not even allowed to laugh. Because it's inappropriate. It's disrespectful to those who are suffering. After struggling for weeks under such harsh pressure, I realized I really want to get over it by doing something very silly. I found myself dying for laughter. So I decided, "OK, I'm gonna make a super stupid song and take my clothes off to it." That's how it all begun and why I named myself Nikita Bitch Project. It's that simple. This is my project to be a woman who is never afraid of doing whatever she wants, which I call respectfully "bitch." Then I performed my first burlesque act in front of my co-workers at that time, and they all enjoyed and laughed so hard, even tipped me a lot of money. So I donated it all to the relief fund.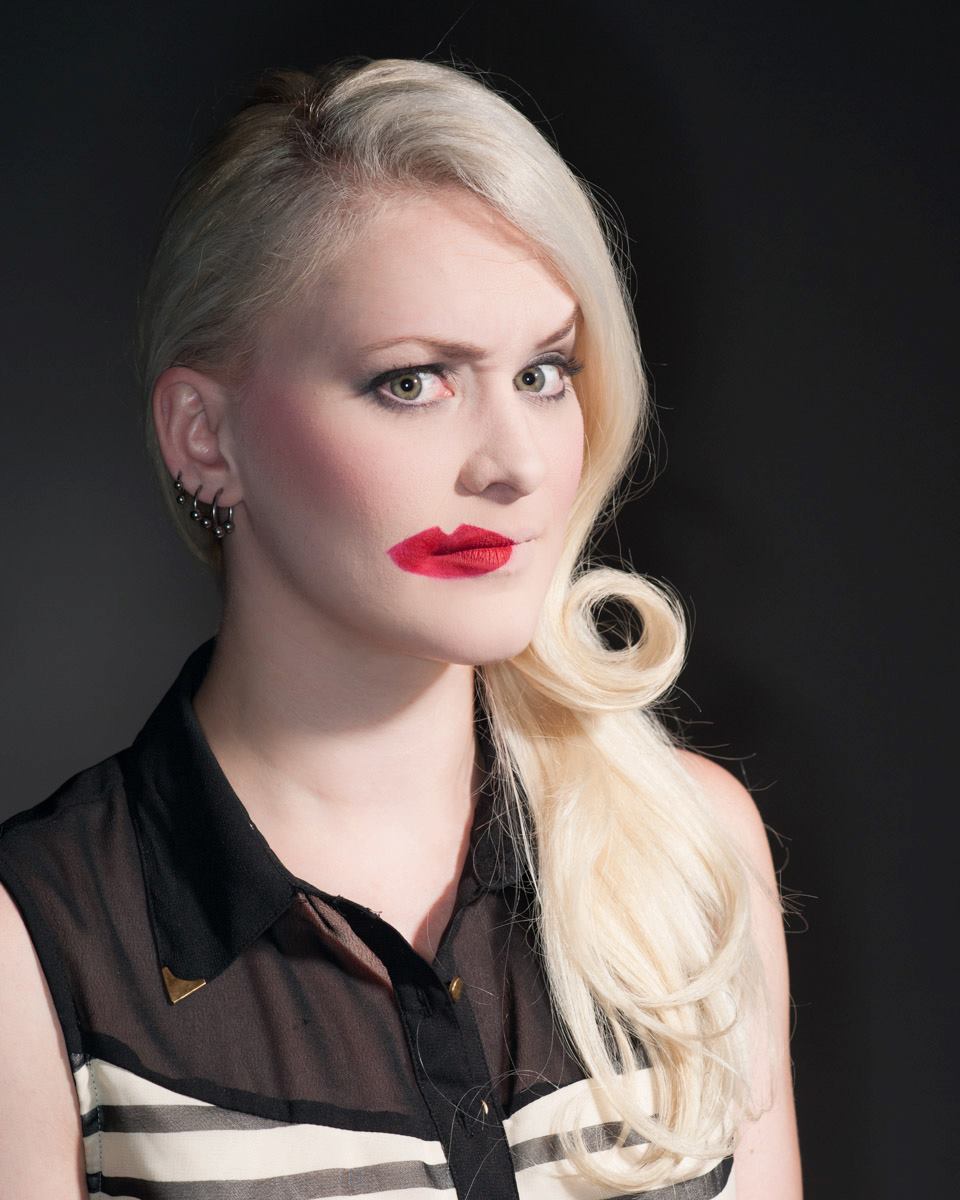 FAVOURITE PERFORMANCE
CHERRY: I love to exchange the energy with the audience. In this way, every performance opportunity is my favourite performance.
KOSTON: every time I step foot on stage is my favourite performance because it's happening "right now" and I love it so much! The Toronto Burlesque Festival in 2011 felt like a big step forward and I was performing in front of so many people I love and respect! Valentease in Jim Thorpe Pennsylvania was an important one for me too, it was my first show outside of Canada AND the first show that my mum came out to see do burlesque!
VIVIAN: I'm not sure I can pick just one. Truthfully, I think the best I ever felt on stage was at the Colorado Burlesque Festival two years ago when I performed my Minnie the Moocher act. The audience sang along the whole time and just filled the room with positive energy. I could just feel myself wrapped in it, and the number went beautifully. At the end, I had the honor of receiving my first standing ovation. It was humbling and exhilarating. Back stage, I was giggling, shaking and trying not to cry.
NIKITA: At my first ever burlesque show, there was a performer stripping to Cee Lo Green's "Forget you." It was a very simple and fun act, but the most memorable moment was the entire audience was screaming out "fuck you!" every time the song hits that "forget you!" part. She of course enjoyed it and played with it so much, and it was like as if this performance is never completed without audience's chorus. That still keeps me teaching that burlesque is a live entertainment.
DD: My Toronto Burlesque Festival 2010 performance was magical for me.  I took an act I put together in Sept 2009 and worked on making it the best I could for 10 months.  I felt like I finally delivered an act I knew I was capable of, but it took 3 years of performing to accomplish.  The crowd that night was unbelievable, the shit dreams are made of.  I left my heart, soul and bra on the stage that night.  That performance changed the way I develop my acts by focusing on quality over quantity.
BIGGEST WTF MOMENT DURING A PERFORMANCE
DD: I had an apron stuck in my hair so bad during a performance I had to literally rip a handful of hair out of my head to get it out.  The crazy thing is I actually didn't feel a thing.  The adrenaline from being on stage numbed my pain.
KOSTON: A recent duet I did with Vixen Vega where we were both dressed as ridiculous muppet-like birds competing for attention. Halfway through a piece of my costume came loose that was essential for the rest of the act. We shot each other a look and with nothing more than a grin we improvised most of the act and the audience loved it! Sometimes things don't go as planned and you you just have to go with it.
VIVIAN: I was on stage in Santa Fe performing to Carmen Miranda. I managed to brush my headpiece with part of my costume at the beginning of the act, and could feel it loosen. At the close of the act on the very final note of the song, it just dropped off my head and landed at my feet. All I could do was bow and try not to burst out laughing. The timing was perfect. Or perfectly bad, depending on how you look at it.
NIKITA: It's actually not "during" a performance, but when I performed at a private party, the organizer told me to use their kitchen as my backroom. But while I was performing in the main floor, the kitchen turned out to be a hidden venue of drug party. When I came back to the "backroom" mostly naked, "excited" kids got even more excited. I grabbed my clothes and purse and everything and got out of there immediately. And I came home to find a dime bag filled with mysterious blue powders in my purse.
CHERRY: Oh Lala! there is no WTF! haha! if something happens, I really love to improvise and communicate with the audience. So I experienced…"Flying pasties", "Falling Panties" "Flying Moustache" and so on, and everything was SO FUNNY!
GIRLESQUE PERFORMANCE
NIKITA: I am going to bring my signature act, which is so crazy, so fierce, and so Michael Jackson.
DD: Ballerina Transformed is my tribute to the history of carnivals. The overall theme of this act is a ballerina becomes a belly dancer in a traveling show. The circus-like mood is infused into the music, costume and choreography. Creating an intriguing mystique and sensuality, while honoring the past and representing the present.
KOSTON: Audrey Hipturn and I will be doing a 1920's style duet to "Bang Bang". We start with a bit of a boy and girl skit and bust in to totally matching outfits to finish with a high energy fan dance. It's silly and fun and we're really looking forward to performing it at Girlesque!
CHERRY: I will bring my new tiki number, ' Banana Boat '. This song is very famous one, but sung in Japanese. Through this act, I would like to express the happiness being as an asian lady. I will combine Japanese sensual hand movement and energetic burlesque!
VIVIAN: The costume has the longest number of hours I've spent on an act to date, featuring a heavily beaded dress that I spent weeks converting from what was jokingly referred to as a sad pageant gown into a sexy mermaid-style dress. I'm in love with the song "What Kind of Man Is This?" sass and sex appeal, and I just can't wait to have fun on the Girlesque stage with this one!
Don't miss your chance to see these babes shine at GREAT CANADIAN GIRLESQUE EXPO 2014 January 18-19 https://www.facebook.com/events/343843472405397/